Multi-author/team blogs: The WordPress plugin mailto:staff generates mailto links on the dashboard referring to all user groups of the blog. Quite handy way of internal staff communication if you don't want to set up a mailing list or a server-side messaging system.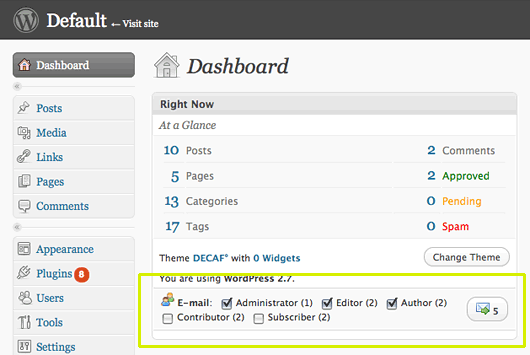 Features:
Mailto links can address any of group admins, editors, authors, contributors and subscribers based on current user's role.
User roles: Subscribers can address admins only. Contributors can address editors and admins. Authors can address authors, editors and admins. Editors and admins can address all users.
Duplicate email addys are removed.
BCC mail if recipients contain subscribers (-> privacy!).
Multi-language.
---
Download and further information
Get further information and the current download version at the
WordPress Plugin Directory.
Thanks for your feedback!